River to end Rafaela's run of good form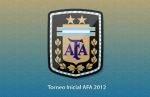 No team has really been able to take the Argentine title race by the scruff of the neck yet, something exemplified by the top three all drawing their games last weekend. With just five games to go it's impossible to pick a league winner, so what's in store this week? Ed Malyon takes a look...
Velez Sarsfield v Quilmes - Saturday 00:15
Since mounting a late run to win the Torneo Inicial, things simply haven't gone right for Ricardo Gareca's Velez domestically - and it got worse last week as they were knocked out of the Copa Libertadores by fellow Argentines Newell's Old Boys.
It allows them to concentrate on the league at least, but they are also fortunate enough to find that most of their injury-ravaged squad has now returned, most notably last year's striking sensation Facundo Ferreyra.
Fernando Gago is still missing, but with Ferreyra back - and scoring, as he did in midweek - they are enormously improved. Every time he has scored for them in the league, they have won, and if he notches against Quilmes then things will be difficult for the visitors.
Quilmes have had a decent campaign, and only leaders Newell's have scored more but that has really tailed off recently with just seven goals in seven games.
Velez are too good to continue with this horrible run and we're backing this week to be their time to return to form.
Recommended bet: Back Velez at 2.08
San Martín de San Juan v Lanús - Sunday 20:00
Lanús may be the only remaining undefeated side remaining in Argentina but they'd do their title hopes a load of good if they actually won a game rather than playing out yet another draw.
The Granate have drawn four of their last five games to concede top spot and slip backwards somewhat, and while it is great to avoid defeat for a whole season, at this rate it will cost them the Torneo Final title.
San Juan is a tough place to go for Guillermo Barros Schelotto's side, where the hosts have won their last three games on the trot. There seems very little chance that they would beat Lanús but given the visitors' propensity for a stalemate, the value lies in the middle.
Recommended bet: Back Draw at 3.15
River Plate v Atletico Rafaela - Sunday 22:10
Sometimes form can be deceiving, and perhaps Atletico Rafaela's good run of late can be used as evidence of that when it is more closely analysed.
They are a solid enough team, and particularly so at home, but sitting in eighth and going well recently doesn't necessarily tell the whole story.
Rafaela have not really had a good/outstanding result since the second week of the Torneo Final when they played against an out-of-sorts Racing. Since then they've only beaten sides found in the bottom half, and on the road they are particularly bad having won just one game all season.
River are strong, their squad is deep and it is hard to see anything other than a win for Ramón Diaz's side. Playmaker strong>Manuel Lanzini is growing into his role and their dynamic frontline makes up for their occasionally questionable defence.
This game should be a regulation home victory.
Recommended bet: Back River at 1.82
Estudiantes v Argentinos Juniors - Monday 22:10
Estudiantes' campaign is evidence of how much a change in management can kickstart a team.
From insipid and winless, Mauricio Pellegrino's influence since taking over has guided them to three wins in their last four and a climb up the table.
They now host an Argentinos side that is so bad that a fan threw his dentures at manager Ricardo Caruso Lombardi and the club President was forced to deny that he was deliberately getting his club relegated to save institutional favourite Independiente.
The visitors are a hapless excuse for a football team and there's only one outcome here.
Recommended bet: Back Estudiantes at 1.84
Viewed 422 times
Keywords: River, Rafaela, Velez Sarsfield, Quilmes
Source: Betfair
Comments and Feedback
There are no comments yet. Be the first to comment this article!
Register or log in to submit your comment.
41 guests, 0 users are online right now.